Close Brothers Invoice Finance and Close Brothers Asset Finance have provided a comprehensive funding package of more than £6m to St Helens based CIP Trading Ltd to secure the future of the business and safeguard more than 30 jobs.
Before entering Administration in October, Hi-Tech Steel Services had a turnover of £40M in steel processing and stockholding, but volatile demand during the last 3 years of the current recession and the consequent effect on trading margins resulted in unsustainable losses.
The Administrators, David Thornhill and Geoffrey Rowley of FRP Advisory took over the management of the business on October 15, and 3 weeks later the directors, led by MD Ian Gorman & Sales Director Chris Gardner of CIP Trading Limited, agreed to purchase the assets, stock and goodwill with the backing of Close Brothers and a private investor.
Close Brothers Asset Finance were existing lenders to Hi-Tech Steel Services and agreed to provide facilities to the new company to refinance existing plant & machinery. Working capital funding came via Close Brothers Invoice Finance with total facilities of £6m+.
A Senior Sales Director at Close Brothers Invoice Finance in Birmingham, said:
"We are delighted to have had the opportunity to work with the Management Team at CIP. Our relationship has been ongoing for a number of years now and we have been very impressed with the experience and commitment of all at the business, which encouraged us to finance the Buy- Out and secure the employment for so many people in the local community."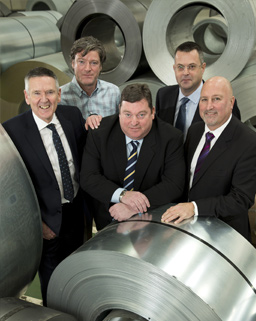 Steve Wells, FD, commented, "We are pleased to have Close Brothers as our funding partner as they have demonstrated an appetite to invest in our sector that makes a refreshing change from the norm in these testing times for businesses in the manufacturing sector. Keith, along with Simon Parker at Close Asset, took a great deal of time to understand our business plan, and were able to provide us with flexible facilities that will allow us to re-establish CIP [Hi-Tech Steel Services] in 2014 and beyond."