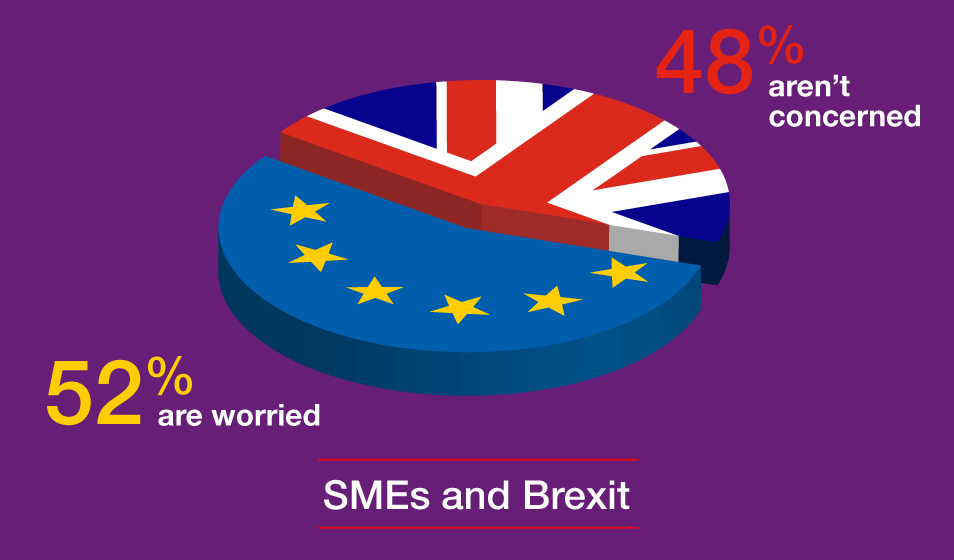 More than half of firms in the Close Brothers Invoice finance Business Barometer have significant concerns that Brexit could adversely affect their businesses.
With just weeks to go until the UK and the European Union are due to agree a transitional deal on Brexit, many of Britain's small and medium-sized enterprises are still worried about a broad range of issues with the potential to hold their businesses back. However, Close Brothers Invoice Finance's research also reveals that for almost half of SMEs it is business-as-usual, with anxieties about how the UK will leave the EU not clouding their outlook at all.  
The latest Close Brothers Invoice Finance Business Barometer, a quarterly indicator of business sentiment, shows that 52 per cent of SMEs currently have at least one major worry about the potential impact of Brexit. But 48 per cent say they have no concerns at all.
In part, the data mirrors the continuing divide in wider society, where the differences between former Remain and Leave campaigners are still as wide as ever.  However, more tellingly, the split reflects the diverse nature of the UK's SMEs. While some businesses are significant exporters to the EU, or active recruiters of labour from other parts of the bloc, others are much more domestically focused. The direct impact of Brexit on this latter group will naturally be less obvious.
Amongst businesses that do have concerns, the single biggest worry is that Brexit has the potential to negatively affect business growth; 25 per cent of all the SMEs in the Close Brothers Invoice Finance Business Barometer cite this fear. A further 14 per cent are worried about potential negative impacts on their ability to hire, while 11 per cent fear Brexit may make it more difficult for them to access finance. Other issues causing anxiety include the prospect of reduced access to finance prior to Brexit (10 per cent), the potential to negatively impact investment plans (9 per cent) and the possibility of losing EU grants (8 per cent).
That so many issues are still troubling SMEs with only a year to go until the UK is due to leave the EU in March 2019 is a consequence of the continuing uncertainty about how negotiations for a Brexit deal will play out – or even whether a deal can be reached. In the short term, agreement on a transitional deal, which would apply from March 2019 until approximately the end of 2020, is close, with only minor details to resolve before the end of this month. But while the UK and the EU are on track to meet this deadline, the transitional agreement will only come into effect next March if a final Brexit deal has been reached by that point.
If no final deal is agreed, SMEs will face the so-called 'cliff edge' scenario, in which the UK has to leave the EU in March 2019 with no process in place. That would almost certainly mean automatically defaulting to the terms of international trade set out by the World Trade Organisation, including potentially punitive tariffs of imports and exports. For SMEs with thin margins and less well-established and diversified overseas trading operations, that could be disastrous.
The position on labour is also unclear, but UK firms would certainly find it much harder to recruit from other EU countries. Potentially, this is as problematic for some SMEs as tariffs on trade with the EU; Close Brothers' research reveals almost one in five firms currently rely on non-UK labour to run effectively, while 14 per cent warn their business would suffer if free movement of labour is restricted following Brexit. 
The bottom line is that SMEs now need far greater certainty about the environment in which they will have to operate in the short, medium and longer term. While it's true that many firms profess themselves unconcerned about the potential of Brexit to negatively impact their businesses, more than half are worried – and their concerns span a wide range of issues, underlining just how much work is still to be done to resolve even relatively basic questions.
Those in charge of the Brexit negotiations are the target of some powerful lobbying groups battling hard to ensure their interests are front of mind during the talks. But it's crucial SMEs aren't overlooked during this process – with time running out to secure a deal, let's remember the crucial role played by SMEs in sustaining and propelling the UK's economic growth.